Wisconsin Village Literally Dumps Wildlife Whisperer
Animals have stepped up and lent their paws to the creation of wildlife art for a good cause ... and artists have offered their paintings and original treasures to save a national treasure, a Wisconsin treasure.
---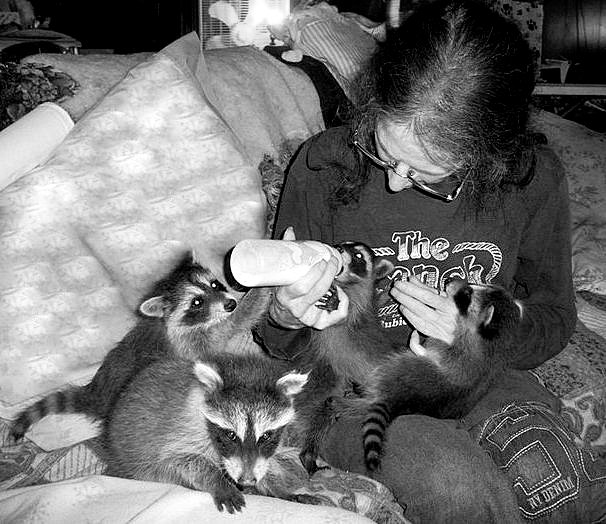 "Our mission is to help those in need and, we hope, to save their little lives so they can go on their Big Adventure in the wild :  it is their birthright.  We do what is possible to make the public aware of the needs of wildlife and its value to humanity ;  and to dispel the myths surrounding wild animals — many spread by officials at every level of government."
---
In the village of Coleman, Wisconsin1, lives a lady whose life is dedicated to the rehabilitation of sick, injured and orphaned wild animals (for which purpose she is duly licensed by the state) — she has been an example to people all over the world of how to do that.  Hers is a vocation ;  her name is Marla 'Matzo' Ross and from her home in the village she runs the Northwoods Wildlife Orphanage (Dory & the Orphans Wildlife Orphanage Corp)2.  Funding of the orphanage, except for some small donations, comes from her own pocket.
In addition to the rehabilitation work itself Matzo Ross gives educational presentations on wildlife to schools and other groups in the surrounding countryside, including the grade, middle and high schools in Oconto, Coleman, Marinette and Peshtigo, Marinette County Conservation Camp and the Kids' College Camp at the Northeast Wisconsin Technical College.  The prestigious Kelly Lake Sportsman's Club in Suring3 has also hosted one of her presentations.
In 2005, in the aftermath of hurricane Katrina, people concerned about animals trapped by flood waters in the disaster zone were approaching wildlife rehabilitators, who would tell them, "Contact Matzo" ;  as a result Matzo became involved – from what she calls her 'little spit of a village' over a thousand miles away – in efforts to feed and rescue stranded pets and wildlife, gathering details of cherished animals left behind as residents fled and passing them to those on the scene able to send out teams to find them.  She founded – and still runs – the largest successful online wildlife-rehabilitation and -rescue organization.
Now, thanks to the village's board of supervisors4, her beloved animals face certain death by being exiled ... to the municipal sewage facility !
Throughout the 'baby' season Matzo must feed the orphans – which constitute most of her 'residents' – every three hours or so.  By virtue of the remoteness of the sewage plant from her home this would simply not be feasible.  Moreover the animals could not there be offered any security from the actions of miscreants that take pleasure in poisoning and otherwise inflicting cruelty upon the animals.
What this heartless village would like to do is to shut the Northwoods Wildlife Orphanage2 down altogether — and it's the only facility handling wild mammals in fourteen counties (at least 1,500 square miles) of N.E. Wisconsin.  Unless this be stopped, the village will be  getting away with a crime against American wildlife and therefore against humanity.
In the course of managing the orphanage, Matzo has not only complied at every stage with the legal requirements of the State of Wisconsin but also surmounted all the petty-fogging obstructions placed in her path by the board of the Village of Coleman4.  For the last couple of years, at the instigation of a particular villager, the board has harassed her mercilessly.  Her facilities have been vandalized and the animals attacked, even killed ... particularly by the dogs of this malicious but influential villager.
At the end of her tether Matzo has now decided to move the Northwoods Wildlife Orphanage out of Coleman.  It won't be easy :  in the midst of worst property slump since the 1930s she is faced with disposing of her existing home and buying another.  This is where the people of Wisconsin, indeed of America, come in :  she needs help ;  yes, in these straitened times she needs financial help.
When, in 2011, she had similar problems with the village board, letters and phone calls poured in from across the World in her support.  The animals are her life, they eat before she does and, even when suffering from pneumonia this past Winter, she took care of them as if oblivious to her own illness.
The orphanage is dedicated to rescuing, saving, rehabilitating and returning to the wild as many orphaned, injured, kidnapped and 'nuisance' wildlife as possible.  Matzo Ross's home-based facility in the Northwoods of Wisconsin cares for those that would otherwise be killed or are so tiny or so seriously injured that they need specialized intensive care.
She needs help and she needs it now.  The animals cannot speak for themselves.  She is considering her options :  she would have liked to stay in Coleman but the anti-social behavior of an influential neighbor and the harassment she gets from the board of supervisors have persuaded her to up sticks and get out of Coleman :  to go somewhere she and the animals can live in peace and she can continue her work of rehabilitating them and returning them to the wild.
Crippling cost
This could not have come at a worse time :  we are right in the middle of baby season, when the young orphans need more attention than they will at any other time in their lives.  But Matzo has no choice and is therefore starting a campaign to raise funds to pay for this major disruption of her life and those of the animals.
Donations would be gratefully received via the web-site5, by Paypal direct to –
admin@doryandtheorphans.com
or point your hand-held device at this QR Code :


---
Fund-raising event
A fund-raising event will be held on September 1st., 2012 at the Equity Community Hall, W7403 State Highway 64, Pound, WI 54161 (opposite 5th Rd. on WI 64 :  45.108, -87.9676).
Donated by the team !
The bar will open around 11 a.m.  A day full of fun will include a poker run, a silent auction not only of the animals' paintings but also of the football generously donated by the
, several raffles & a bake sale — culminating in a spaghetti dinner.  And there'll be music throughout the afternoon and on in to the evening.
Tickets are now available on-line7 and by post from Northwoods Wildlife Orphanage at 133 Victor Street,  Coleman, WI 54112.
Event
Time
Ticket price - $

*

Carry-out will be available ($10.00)
† Under-5s free
Poker run
Registration
11 a.m. till noon
Rider
10.00
Pillion
10.00
Spaghetti dinner*
4.30 p.m.
~ till ~
6.30 p.m.
Adult (13+)
10.00
Senior citizens
7.50
Aged 5-12†
5.00
Sponsor this event !  Donors of $100 or more will be named (own name or business name) alongside the
on the back of T-shirts to be sold at the event.  (To allow time for printing a deadline applies.)
Links relating to the text
Coleman, Wisconsin


http://www.villageofcoleman.com/

The Northwoods Wildlife Orphanage


http://doryandtheorphans.com/

Fund raiser at the Kelly Lake Sportsman's Club, Suring, July 2008


http://doryandtheorphans.com/kelly_lake_sportsman.htm

The Board of the Village of Coleman


http://www.marinettecounty.com/municipalities/?i=43558fb94619

Donate to Dory & the Orphans


http://doryandtheorphans.com/
Paypal :  admin@doryandtheorphans.com

Equity Hall's location in Google Maps


http://maps.google.com/maps?ll=45.108,-87.967

Tickets for the fundraising dinner-dance :  apply by e-mail to –


admin@doryandtheorphans.com
ENDS